Sarah Parker-Givens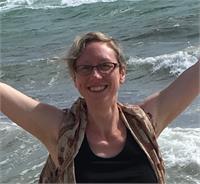 Sarah Parker-Givens E-RYT completed Max Strom's 200 hour Way of Life Teacher Training in 2010 and has been teaching since then. In addition, she has studied vinyasa yoga extensively with Alicia Rambo-Wozniak and the anatomy of movement with Jamie Elmer.
In 2013, Sarah completed Therapeutic Yoga for Seniors, a week-long teacher training intensive at Duke Integrative Medicine. Sarah's focus is on the healing of the body, mind and spirit through breath centered movement. Emphasis is placed on deep full breathing as the key to a transformative practice.
Sarah welcomes all students, believes in teaching with kindness and respects where each body is at its present moment.
Sarah Parker-Givens instructs the following:
Open to all levels, our Gentle Yoga class is designed to connect breath, alignment, and mindfulness with basic yoga postures. Based on the Kripalu tradition of cultivating inner peace, these classes focus on stretching and attention to breath during a relaxing flow. Especially good for anyone who wants a slower paced, less strenuous class. All levels.




Learn a more traditional form of vinyasa flow yoga which focuses postures that move you through the Chakras - known as energy centers in your body. In this class you will learn about Ujai breath otherwise known as ocean breath, how to do sun salutations (Surya Namaskara A & B), warrior poses, balancing poses, twists, and gentle back bends. This is a great class to take for anyone wishing a more traditional practice and is perfect for all levels.