Marisa Hall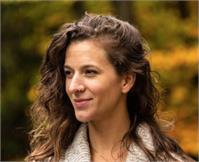 Marisa has been a student of yoga since her introduction in 2008. Having spent her teenage years as a competitive dancer, she recognized yoga's capacity to facilitate fierce grace and profound bodily conditioning for its practitioners. Throughout the years her practice has evolved, from glorified stretching to what today represents a sincere devotion to this path of self-actualization Her classes encourage thoughtful movement mechanics, exposure to yogic philosophy & classic texts, and an inquiry into our internal landscape. If you like to stay curious, develop strength & mobility safely, and laugh at quirky jokes, join her on the mat.

Marisa received her 200-hr Yoga Alliance certification in 2015. Her mentors include Keri Setaro, Paula Loose, Raghunath Cappo & Justin Wolfer.

In addition, Marisa is a 650-hr Ayurvedic Health Counselor through the Kripalu School of Ayurveda. She offers individualized Ayurvedic counseling services, has created a line of premium Ayurvedic body oils, and leads Ayurvedic workshop throughout VT & NY. For more info, visit mjh Yoga & Ayurveda at www.mjhyanda.com.
Marisa Hall instructs the following:
RESTORATIVE YOGA: Relax & Renew. This slow, yin-style class focuses on reclined positions and incorporates the use of props to allow for extended time in postures and promote full-body release. Ample therapeutic adjustments provided. Leave feeling like you're walking on clouds.




Open to all levels, our Gentle Yoga class is designed to connect breath, alignment, and mindfulness with basic yoga postures. Based on the Kripalu tradition of cultivating inner peace, these classes focus on stretching and attention to breath during a relaxing flow. Especially good for anyone who wants a slower paced, less strenuous class. All levels.




This is a slow flow Vinyasa class open to all levels.